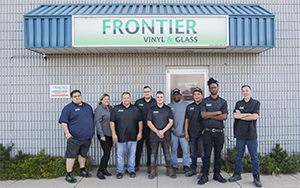 In addition to windows,
Frontier Vinyl & Glass
also offers interior and exterior doors, glass railing, and glass for showers and cabinets. Stop in our showroom today or contact us to schedule a consultation and estimate.
About Frontier Vinyl & Glass
Frontier Vinyl & Glass is a local company that makes all our windows right here in Saskatoon. Being a local company, we understand the harsh weather we get on the prairies.
That's why all of our components, all the way down to the last screw are carefully chosen and tested to withstand whatever mother nature can throw at us. Since 1999, we have been a supplier and manufacturer of hand-made, energy efficient PVC windows.
Whether you're renovating your home or building a new one, we can customize a window package to suit your needs. Using the highest quality materials, we offer the best products for competitive prices.
Frontier Vinyl & Glass is owned by Darren and Shelley Zerebeski. Darren, his two sons and his wife operate the business. Together, they bring over 50 years of experience in the glass industry to the business, including residential and commercial. The family was born and raised in Saskatoon. They have a strong commitment to supporting local businesses and strive for excellence and customer satisfaction. Frontier Vinyl & Glass manufactures high quality, custom made PVC windows right here in Saskatoon and are a proud supplier of Madero Doors (which are also made right here in Saskatoon!).