Madero Doors in Saskatoon, SK
Madero Artisan Series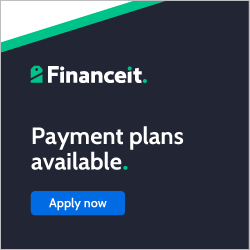 If you can dream it, Frontier Vinyl & Glass uses the Madero Artisan Series to build it. This collection has ten systems to choose from with up to 10 design options within each system. You can choose your custom layout, glass design, and hardware to create the perfect entryway. Crafted with premium wood, composite, or fiberglass frames, these doors are available in white or a beautiful variety of wood stain colors. The hardware options range from simple door knobs to door pulls and digital keypads. The contractors at Frontier Vinyl & Glass can provide you with measuring and ordering tips to ensure your door is the correct size and shape, whether you are replacing a door or building a new home.
Madero systems are available with either steel or fiberglass doors and frame options of wood, wood with Framesaver®, smooth white composite or textured composite. Simply decide which system works for you, select your door size, jamb depth, door handing and if required, complementary glass. It is that simple!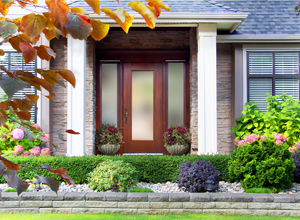 Artisan Series 2020 Brochure:
Click here to view the Artisan Series 2020 Brochure
More Options Can Be Viewed Here:
Click here to view the Novatech 2020 Brochure Click here to view the ODL 2019 Brochure
Madero Garden Patio Series:
Click here to view the Madero Garden Patio Door Series
Madero Garden Patio Series:
Click here to view the Madero Garden Patio Door Series
---
Madero Entry Series
Design Entry Series Collection
Frontier is a proud supplier of Madero doors. If you are looking for a simple, economical door solution, the Madero Entry Series door collection is for you. Tailored for the extreme Canadian climate, they offer a range of design and material options to suit your specific needs. Whether you're building a new home or making renovations, they create an exceptional entry way to your home. Standard 6'8" door slab heights are available, with drilling to accommodate knobs, handles, levers, and deadbolts. With six product lines to choose from in the Entry Series collection alone and steel, fiberglass, wood, or composite materials, the options are virtually endless.
Madero has designs made especially for garages and other outbuildings, side doors, and front doors. There are 12 glass panel options to choose from as well, including door glass inserts made with clear or distorted glass for privacy. Madero also has a Workhorse Combo entry system, made with a double rabbeted jamb system to allow two 1-3/4 door slabs for increased security, thermal efficiency, and sturdy installation. Each of the entry system doors have adds on available. These include a commercial sill, used with a commercial sweep, which creates a flat entry line so you can easily move wheelchairs and dollies in and out. Self closing hinges ensure the door stays closed when not in use. Other add-ons include a door viewer, PH5900 Slimline Brickmould, or no brickmould.
---
Architectural Doors
We also offer a vast selection of architectural doors, which are interior doors used for hotel rooms, apartments, and office suites. They have high security door handles and decorative designs with a peephole and no windows for privacy.

Pocket Doors
Another type of interior door available from Frontier Vinyl & Glass, pocket doors slide into the wall to open and slide across a flat doorframe to close. These are great for areas where space is limited and are often seen in bathrooms, closets, and in between two rooms.
---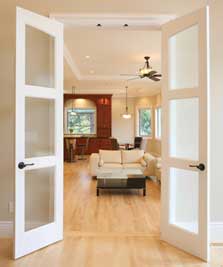 Other Interior Doors
There are several other interior door options available that work for any room from the bedroom to a home office. We offer carved doors, mirror doors which work well for closets or as a partition between two rooms, flush doors, which are your standard lightweight wood interior doors, louver doors which fold like an accordion for closets, moulded panel doors, doors with high definition panels that look similar to exterior doors, and wood panel doors. There are several color options available from white to cherry wood stain and many others. For commercial applications, we offer hollow metal doors with push bars, which you often find in school gyms, theaters, and retail stores. We also install aluminum storefront doors, which are the standard double doors you see at large shopping centers.
Frontier Vinyl & Glass in Saskatoon can create any customized door solution you need, whether you have a new home, you are remodeling your home, or you need to outfit doors for an office building, retail location, warehouse, school, or any other type of building. Our team will work with you to uncover all your needs and style preferences to find and install the perfect door product.
---
Larson Storm Doors
Larson's 2020 Catalogues: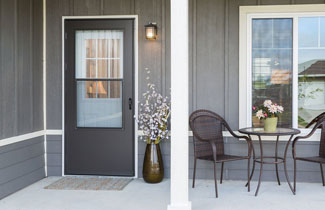 Let in the breeze when you want, and the way you want, with these ventilating doors!
Storm doors at a great value. Choose from all-metal frame construction or a tough, weather-resistant DuraTech® surface. Reversa Screen provides for top or bottom venting.
---
Schlage hardware
Click here to see Schlages Hardware Brochure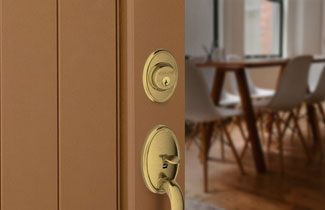 All of Schlage's residential front entry door handlesets are precision-engineered, built with rugged metal, and thoroughly tested to ensure maximum residential security.